NATO-ISRAEL COOPERATION IN THE CONTEXT OF THE RUSSIA-UKRAINE WAR
Keywords:
NATO; Israel; Middle East; Russia-Ukraine war; security policy; security cooperation; alliance theory.
Abstract
Russia's invasion of Ukraine has shifted NATO's attention to its eastern flank and raised the importance of collective defence. However, the transatlantic alliance has spent long years to build up its reputation as a security provider in the Middle East as well, in the southern strategic direction. The current paper analyses the state of NATO's efforts on the southern flank, using its partnership with Israel as a case study. It argues that, in the context of the Russia-Ukraine war, robust NATO cooperation in the South, having Israel as a key pillar, is more important than ever, even though it is a low priority on NATO's agenda in 2023 because of the ongoing war.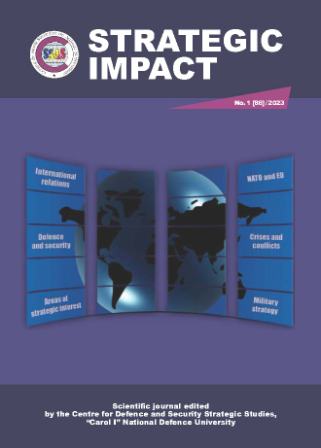 Downloads
Section
POLITICAL-MILITARY TOPICALITY