ASSESSMENT OF PSYCHOLOGICAL CHALLENGES AND TREATMENT POSSIBILITIES IN MILITARY PERSONNEL
Keywords:
stress; psychological assistance; resilience; disaster management; defence forces.
Abstract
Disaster management is a very complex phenomenon, which is not only the task of an organization, rather a common aim of the government, social organizations and civilians. Disaster relief, prevention, response and recovery are complex processes where cooperation between countries and international bodies is essential. Breaking with previous conventions has made the system more open, thus they can monitor the effects of disasters from several aspects. In addition to social and economic damage prevention, this paper's aim is to clearly stressing the fact that more attention should be paid to psychological assistance and psychic resilience improvement of military personnel.
References
JONES, D. F.: Psychiatric Lessons of War, in: F. D. Jones et al. (eds.), War Psychiatry. – In. TMM Publications, Washington, D. C., 1995. pp. 1–33.
BARNA, Boglárka: Psychological Methods of the Treatment of Combat Stress Based on Modern Armed Struggles. http://real.mtak.hu/104397/1/HSZ_2019_3-9_Barna_145-162.pdf, downloaded: 2021. 03. 21.
HORNYACSEK, Júlia: The New Understanding of the Civil Protection and Recommentation on its Use woth the Help of the Example of the Events of Hurricane Katrina in New Orleans. Engineer Military Bulletin of University of Public Service (Hungary), 2011. vol. XXI. issue 1-4, pp 371-393.
URBÁN, Nóra, PÉTER, László: A stresszel szembeni rugalmas vészreagálás (reziliencia) katonai aktualitásai. – In. Hadtudományi Szemle, 2016. vol. IX. issue 1. pp. 294-303.
DEVANEY, Lee (ed.): Community Resilience in Urban Areas. British Red Cross (Participants: Denmark, Hungary, Netherlands, United Kingdom), Budapest, 2014.
SÁFÁR, Brigitta: Deployment of standardized emergency response units in large scale emergencies. Engineer Military Bulletin of University of Public Service (Hungary), ISSN 2063-4986, 2018. vol28 issue 3, pp 164-173
RANSCHBURG, Jenő: Félelem, harag, agresszió (Fear, anger, agression). Budapest Textbook Publisher, 1983. p. 33.
BESENYŐ, János: Low-cost attacks, unnoticable plots? Overview on the economical character of current terrorism, Strategic Impact, 62/2017: (Issue No. 1) pp. 83-100. (2017), https://www.ceeol.com/search/article-detail?id=531307
BESENYŐ, János: Participation of Hungary in African Operations between 1989-2019, Óbuda University, Safety and Security Sciences Doctoral School, Budapest, 2019, pp. 97-100.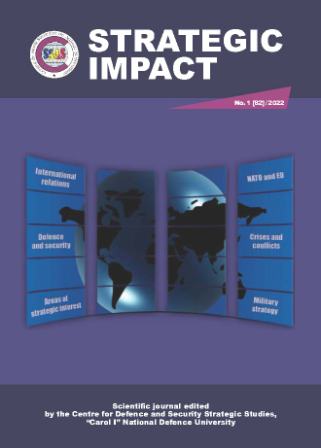 Downloads
Section
SECURITY AND MILITARY STRATEGY