WARM-UP BEFORE PHYSICAL EFFORT ̶ ITS NEED AND IMPORTANCE IN THE ACTIVITY OF MILITARY PHYSICAL TRAINING
Abstract
After defining and presenting the types of warm-up, the article highlights the need and importance of performing such an action effectively before carrying out any type of physical effort and especially that specific to military activity. Throughout the article, it is emphasized that a well-planned warm-up, with a relevant content and in harmony with the specific objectives of the training or sports competition, substantially reduces the risk of injury and clearly improves motor performance. Also, the article includes in its final part a warm-up protocol that can be used successfully in the area of ​​military physical training, in which military instructors have the opportunity to develop diversified physical exercises, beneficial for achieving superior performance.
Keywords: warm-up; physical effort; training; musculature; blood flow; breathing; temperature; performance.
References
*** Regulamentul educației fizice militare, Technical-Editorial Center of the Army Publishing House, Bucharest, 2013.
https://www.csid.ro/diet-sport/sport/de-ce-este-importanta-incalzirea-inainte-de-sport
https://www.fitness-scandinavia.ro/blog-post/incalzirea-warm-up-si-rolul-acesteia
http://www.sfatulmedicului.ro/Sanatate-prin-sport/necesitatea-si-importanta-incalzirii
https://ro.wikipedia.org
http://staff.southwales.ac.uk
https://humankinetics.me/2019/03/04/what-is-the-ramp-warm-up
https://www.scienceforsport.com/warm-ups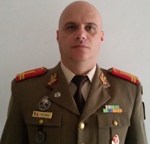 Downloads
License
The published articles are subject to copyright law. All rights are reserved to the "Carol I" National Defense University, regardless of whether all or part of the material are considered, especially the rights to translation, reprinting, re-use of illustrations, quotations, broadcasting through the media, reproduction on microfilms or any other way and storage in data banks. Any replicas without the associated fees are authorized provided the source is acknowledged.