CHARACTERISTICS OF THE MILITARY'S MOTRICITY AT DIFFERENT AGES
Abstract
The article addresses the motricity of military personnel at different ages, in three periods of life in service, as follows: the period of military high school education; the period of initial training as a military; the period of maturation and continuous professional development. Also, we presented in the article the manner of evolution of the military from a physical point of view, starting immediately after the selection process and continuing with the period of professional development (period marked by maximizing motor performance in the first phase, keeping oneself for as long as possible at this level, and then obviously reducing it as retirement is approaching).
Keywords: motricity; motor qualities; motor skills; age; physical effort; professional development; performance.
References
Ciapa G., "Motricitatea omului – necesitate socială", Bulletin of "Carol I" National Defence University no. 3, Bucharest, 2015.
Dragnea A., Bota A., Teoria activităților motrice, Didactic and Pedagogical Publishing House, Bucharest, 1999.
Dragnea A. and colab., Educaţie fizică şi sport – teorie şi didactică, FEST Publishing House, Bucharest, 2006.
Epuran M., Motricitate şi psihism în activităţile corporale, FEST Publishing House, Bucharest, 2011.
Paloş R., Sava S., Ungureanu D., Educaţia adulţilor – Baze teoretice şi repere practice, Polirom Publishing House, Iaşi, 2007.
Pelmuș A.D., Eficientizarea activității de educație fizică militară în procesul de instruire a forțelor, premisă a creșterii potențialului de luptă, PhD Thesis, "Carol I" National Defence University Publishing House, Bucharest, 2019.
https://dexonline.ro
http://www.conferinte-defs.ase.ro/2009/PDF/ed%20fizica
https://www.rasfoiesc.com/hobby/sport/Caracteristicile-motricitatii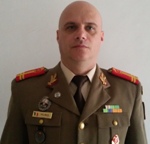 Downloads
License
The published articles are subject to copyright law. All rights are reserved to the "Carol I" National Defense University, regardless of whether all or part of the material are considered, especially the rights to translation, reprinting, re-use of illustrations, quotations, broadcasting through the media, reproduction on microfilms or any other way and storage in data banks. Any replicas without the associated fees are authorized provided the source is acknowledged.