ASSESSMENT METHODOLOGY OF THE LEVEL OF TRAINING OF JOINT TACTICAL GROUPS OF SHIPS
Abstract
An analysis of military conflicts of the last decades indicates the widespread and comprehensive use of hybrid methods of threats, concealed, indirect (veiled) use of regular troops. Under such conditions, the use of armed forces with other components of the defence forces is indisputable. The new approach to state defence is based on the main categories that affect the development of the use of state defence forces, namely, time, space, reason. Under such conditions, there is a need to make changes in the system of combat training, which will ensure the appropriate level of training of forces (troops) of the Armed Forces and other military formations, acquisition of capabilities to jointly perform tasks as part of joint defence forces. Acquisition of capabilities to jointly perform the tasks by ships the Naval Forces and the Maritime Security Service of the State Border Service has certain features in terms of combat training and deserves attention from military science and requires a separate study.
Keywords: effectiveness of combat training; assessment methodology; level of training; joint tactical groups of ships
References
Kant I., Criticism of Pure Reason, Cambridge University Press, Cambridge, 1998.
Matvienko V., Prognostics, Ukrainian propylaea, Kyiv, 2000.
Saatyі T.L., Decision Making with Dependence and Feedback, RWS Publications, New York, 1996.
Sirotenko А., Modern views on the forms and methods of application of groups of troops (forces) of the Armed Forces of Ukraine, other military formations, All-Ukrainian scientific-practical conference "Joint actions of military formations and law enforcement agencies of the state: problems and prospects", Odessa, 2018.
Wentzel E., Operations Research, "Soviet Radio", Moscow, 1972.
Zablocki V., To ensure victory in the Great War, Ukrainian Week, Kiev, 2019, Electronic resource, https://tyzhden.ua/World/228985
Normative document, Regulations artillery service of the navy, Military publishing ministries of defence of the USSR, Moscow, 1972.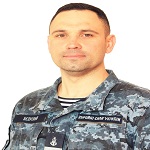 Downloads
License
The published articles are subject to copyright law. All rights are reserved to the "Carol I" National Defense University, regardless of whether all or part of the material are considered, especially the rights to translation, reprinting, re-use of illustrations, quotations, broadcasting through the media, reproduction on microfilms or any other way and storage in data banks. Any replicas without the associated fees are authorized provided the source is acknowledged.