ROMANIAN ARMY IN SUPPORT OF LOCAL AND CENTRAL AUTHORITIES FOR MANAGING THE HEALTH CRISIS CAUSED BY THE COVID-19 PANDEMIC
Abstract
The contemporary society is facing, during this period, a phenomenon unprecedented in the last hundred years (since the Spanish flu from 1918-1921), extremely complex, difficult to manage and with global expansion - the current pandemic of atypical pneumonia. In an increasingly interconnected and interdependent world, in which human mobility is constantly growing, Romania has in its turn become overwhelmed by this plague. The identified dangers, corroborated with the virulence and high contagiousness of the new SARS-COV-2 coronavirus, imposed, at the level of the Romanian state, an inter-institutional and interdepartmental approach to the management of the problem generated by this pandemic. The Romanian Army as a component part of the National Emergency Management System was called upon to support the management of the special emergency situation generated by the COVID pandemic 19.
Keywords: Coronavirus; pandemic; sanitary crisis control measures; Romanian army.
References
*** Legea nr. 55, din 15, mai 2020 privind unele măsuri pentru prevenirea şi combaterea efectelor pandemiei de COVID-19.
*** Decretul nr. 195, din 16 martie 2020.
*** Decretul nr. 240, din 14 aprilie 2020.
*** Ordonanța de urgență nr. 21, din 15 aprilie 2004 (actualizat).
Hârjeu C.N., Istoria Armei Geniului, I.V. Socecu, Bucharest, 1902.
www.cnscbt.ro
www.ecdc.europa.eu
www.defenseromania.ro
www.digi24.ro
www.g4media.ro
www.ms.ro
www.hotnews.ro
myradioonline.ro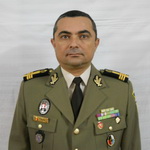 Downloads
License
The published articles are subject to copyright law. All rights are reserved to the "Carol I" National Defense University, regardless of whether all or part of the material are considered, especially the rights to translation, reprinting, re-use of illustrations, quotations, broadcasting through the media, reproduction on microfilms or any other way and storage in data banks. Any replicas without the associated fees are authorized provided the source is acknowledged.