THE IMPORTANCE OF PHYSICAL TRAINING IN THE MILITARY USING THE SANDBAG FOR FITNESS
Abstract
Functional training initially applied only in rehabilitation centers for war veterans has become very popular lately in the fitness community. You need to be able to perform physically, not just look good. Training using the sandbag for fitness forces the body to become stronger and more agile in different postures, it trains you to move more efficiently and to carry out daily activities more easily and efficiently. By means of physical exercises, you are forced to overcome any situation that you encounter in the military environment and, in order to improve this capacity, you must use training programs that imitate the activities of daily living.
Keywords: sandbag, fitness; physical exercises; fitness; training; education
References
[SHARP, M.A. & Co.], A database of physically demanding tasks performed by US Army soldiers, Natick, MA: US Army Research Institute of Environmental Medicine, 1998.
Băițan G.F., Romanian Army servicemen's physical training in the framework of NATO integration, "Carol I" National Defence University Publishing House, Bucharest, 2019.
Ciapa G.C., Romanian Army servicemen's physical training in modern conflict, "Carol I" National Defence University Publishing House, Bucharest, 2018.
Henkin J., DVRT The Ultimate Sandbag Training System: For Dynamic Power, Superior Athletic Performance and Enduring Strength, Kindle Edition, Dragon Door Publications, Inc, 2014.
Hirshberg B., Sandbag Training Bible: Functional Workouts to Tone, Sculpt and Strengthen Your Entire Body, Kindle Edition, Ulysses Press, 2015.
Jones B., Strossen R.J., The Complete Sandbag Training Course, Paperback, Ironmind Enterprises, 2004.
Palfrey, M., The Complete Guide To Sandbag Training, Kindle Edition, Sandbag Fitness; 1st Edition, 2014.
Rohmer, T., Sandbag Training: Build a Fit & Functional Body Using Workouts That Are Efficient and Effective, Includes Over 50 Different Sandbag Workouts, Kindle Edition, 2018.
https://masterfighting.com/pehlwani
https://healthahoy.com/ancient-sports/malla-yuddha
http://www.ferdowsihotel.com/Blog/PostDetails/33/Varzesh-e-Bastani-Iranian-ancient-sport
https://startingstrength.com/get-started/program.
https://www.lift.net/workout-routines/wendler-5-3-1
https://www.ultimatebodypress.com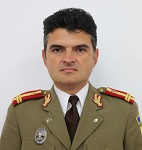 Downloads
How to Cite
BĂIȚAN, G.-F. . (2020). THE IMPORTANCE OF PHYSICAL TRAINING IN THE MILITARY USING THE SANDBAG FOR FITNESS. BULLETIN OF "CAROL I" NATIONAL DEFENCE UNIVERSITY, 9(3), 176–182. https://doi.org/10.12753/2284-9378-20-56
License
The published articles are subject to copyright law. All rights are reserved to the "Carol I" National Defense University, regardless of whether all or part of the material are considered, especially the rights to translation, reprinting, re-use of illustrations, quotations, broadcasting through the media, reproduction on microfilms or any other way and storage in data banks. Any replicas without the associated fees are authorized provided the source is acknowledged.