USING THE BEEP TEST AS AN ALTERNATIVE TO MEASURING THE MILITARY'S AEROBIC CAPACITY
Abstract
Physical training in the Romanian Army generally keeps up with the main line of training of other NATO states, having the same training principles and fundamental ideas on the positive effects that the military's motor capacity can have on the development of military actions and successful fulfillment of entrusted missions. At the same time, there is an obvious need to develop (or revise the existing ones) in the Romanian Army modern tools (concepts, methods, regulations and manuals specific to military physical education) to form the basis for training and training of fighters, as there are in strong armies, recognized for their emphasis on the physical training of the military..
Keywords: Beep test; endurance running; maximum aerobic capacity; physical trening.
References
*** Military Physical Education Regulations, Publishing House of the Technical-Editorial Center of the Army, Annex no. 5, Bucharest, 2013.
Băițan G.F., Romanian Army servicemen's physical training in the framework of NATO integration, "Carol I" National Defence University Publishing House, Bucharest, 2019.
Ciapa G.C., Romanian Army servicemen's physical training in modern conflict, "Carol I" National Defence University Publishing House, Bucharest, 2018.
Léger L.A., Lambert J., A maximal multistage 20m shuttle run test to predict VO2max, European Journal of Applied Physiology, vol. 49, 1982.
Léger L.A., Gadoury C, Validity of the 20m shuttle run test with 1 minute stages to predict VO2max in adults, Canadian Journal of Sport Science, no. 14:1, 1989.
Tomkinson G.R., Léger L.A., Olds T.S., Cazorla G., Secular trends in the performance of children and adolescents (1980–2000): An analysis of 55 studies of the 20 m shuttle run in 11 countries, Sports Medicine, no. 33, 2003.
https://adrenallina.ro/ce-este-vo2-max-si-cum-variaza-de-la-un-sportiv-la-altul
https://www.runnersworld.com/training/a26066029/increase-vo2-max
https://www.strayfm.com/news/local-news/2454829/watch-harrogates-army-foundation-college-attempt-world-record
https://www.stk-sport.co.uk/beepshuttle-software.html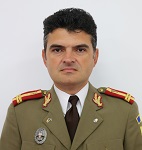 Downloads
How to Cite
BĂIȚAN, G.-F. . (2020). USING THE BEEP TEST AS AN ALTERNATIVE TO MEASURING THE MILITARY'S AEROBIC CAPACITY. BULLETIN OF "CAROL I" NATIONAL DEFENCE UNIVERSITY, 9(3), 168–175. https://doi.org/10.12753/2284-9378-20-55
License
The published articles are subject to copyright law. All rights are reserved to the "Carol I" National Defense University, regardless of whether all or part of the material are considered, especially the rights to translation, reprinting, re-use of illustrations, quotations, broadcasting through the media, reproduction on microfilms or any other way and storage in data banks. Any replicas without the associated fees are authorized provided the source is acknowledged.