OPTIMIZATION OF THE EVALUATION PROCESS OF STUDENTS' MILITARY PHYSICAL EDUCATION FROM THE COMMAND MASTER'S DEGREE STUDY PROGRAMS, ORGANIZED BY "CAROL I" NATIONAL DEFENCE UNIVERSITY
Abstract
The article analyzes the evaluation activity in military physical education within the training process, in general, and of the students from the command master's degree study programs, organized by "Carol I" National Defence University, in particular. Also, during the article, the importance of the evaluation process is noted, and some solutions are presented that can contribute to its optimization.
Keywords: evaluation; military physical training; training; optimization; effect.
References
Andrei Ion, Braboveanu Marian, Penciulescu Gabriela, "Influența funcției de evaluare a managementului în optimizarea activității de educație fizică militară", Bulletin of "Carol I" National Defence University, no. 4/2005.
Dragnea Adrian și colab., Educaţie fizică şi sport – teorie şi didactică, FEST Publishing House, Bucharest, 2006.
Jinga Ioan, Managementul învăţământului, Academy for Economic Studies Publishing House, Bucharest, 2003.
Loghin Mihaela, Evaluarea pregătirii fizice militare, DARECO Publishing House, Bucharest, 2002.
Țoca Ioan, Management educaţional, Didactic and Pedagogical Publishing House, Bucharest, 2002.
http:// www.academia.edu
https://dmru.mapn.ro
https://www.unap.ro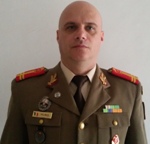 Downloads
License
The published articles are subject to copyright law. All rights are reserved to the "Carol I" National Defense University, regardless of whether all or part of the material are considered, especially the rights to translation, reprinting, re-use of illustrations, quotations, broadcasting through the media, reproduction on microfilms or any other way and storage in data banks. Any replicas without the associated fees are authorized provided the source is acknowledged.