THE MOTOR CAPACITY – FOUNDATION OF MILITARY TRAINING
Abstract
The article emphasizes the place and role of motor capacity in the military training process. Thus, the motor capacity is the foundation, the pillar on which military training is based, and its development is an essential purpose of military physical education, which requires a multilateral training of motricity. This requires a large amount of knowledge, qualities, motor skills and abilities, which is achieved with various means specific to the activity of physical education and sports, but also other categories of military training.
Keywords: military training; motor capacity; motor qualities; motor skills; motor abilities.
References
*** Doctrina instruirii Armatei României, General Staff, Bucharest, 2006.
*** Terminologia educației fizice și sportului, Sport-Tourism Publishing House, Bucharest, 1978.
Cîrstea Gheorghe, Teoria și metodica educației fizice și sportului, AN-DA Publishing House, Bucharest, 2000.
Dragnea Adrian, Educație fizică şi sport – teorie și didactică, FEST Publishing House, Bucharest, 2006.
http://www.maraton.info.ro/notiuni-elementare-despre-eforturile-aerobe-si-anaerobe.html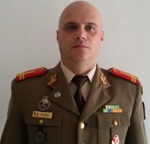 Downloads
How to Cite
PELMUȘ, A. . (2020). THE MOTOR CAPACITY – FOUNDATION OF MILITARY TRAINING. BULLETIN OF "CAROL I" NATIONAL DEFENCE UNIVERSITY, 9(3), 163–167. https://doi.org/10.12753/2284-9378-20-54
License
The published articles are subject to copyright law. All rights are reserved to the "Carol I" National Defense University, regardless of whether all or part of the material are considered, especially the rights to translation, reprinting, re-use of illustrations, quotations, broadcasting through the media, reproduction on microfilms or any other way and storage in data banks. Any replicas without the associated fees are authorized provided the source is acknowledged.