OPINIONS REGARDING THE WAYS OF ENSURING EFFECTIVE MAINTENANCE OF LAND FORCES MILITARY TECHNIQUE IN PEACETIME
Abstract
In the present article will deal in detail with the role of maintenance, one of the most important areas of logistics, in maintaining and restoring military machinery and equipment, which is achieved through the continuous development, in peacetime, crisis or war, of two main activities, namely maintenance and repair. Maintenance is represented in the logistics system, in large units of the ground forces, in the management structure, by the technical deputy chief of logistics, and in the execution structures, depending on the echelon, by maintenance platoon structures, SMEM or SMME, from line I to level II logistical support. The arrangement of the execution elements is done with the observance, indicative of the tactical norms regarding the surfaces and the distances, so that the missions can be fulfilled making the most of the land and the local possibilities regarding the accomplishment of some maintenance works.
Keywords: maintenance; upkeep; repair; military equipments; areas.
References
*** Doctrina logisticii întrunite a Armatei României, Bucharest, 2018.
*** AJP 4 Allied Joint Doctrine for Logistics, Edition B, Version 1, December 2018.
*** M 36/2008, Regulamentul logisticii operațiilor întrunite, Monitorul Oficial, Part I, no. 353, from 07.05.2008.
*** Logistics quotes, Collection of logistics quotes from CEOs, military leaders and logistic experts, 27.09.2018, http://www.everythingsuppulychain.com/logistics-quotes
Andronic Benone, Minculete Gheorghe, Abordări relaționale ale sprijinului logistic al diviziei de infanterie în operația de apărare pe litoral, "Carol I" National Defence University Publishing House, Bucharest, 2019.
Bălan Carmen, Logistica, IIIrd Edition, Uranus Publishing House, Bucharest, 2006.
Minculete Gheorghe, Abordări moderne ale managementului logistic, "Carol I" National Defence University Publishing House, Bucharest, 2015.
http://www.dexonline.ro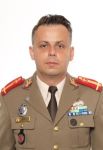 Downloads
How to Cite
ENACHE , R. ., & VOICILĂ, G.-E. . (2020). OPINIONS REGARDING THE WAYS OF ENSURING EFFECTIVE MAINTENANCE OF LAND FORCES MILITARY TECHNIQUE IN PEACETIME. BULLETIN OF "CAROL I" NATIONAL DEFENCE UNIVERSITY, 9(3), 144–149. https://doi.org/10.12753/2284-9378-20-51
License
The published articles are subject to copyright law. All rights are reserved to the "Carol I" National Defense University, regardless of whether all or part of the material are considered, especially the rights to translation, reprinting, re-use of illustrations, quotations, broadcasting through the media, reproduction on microfilms or any other way and storage in data banks. Any replicas without the associated fees are authorized provided the source is acknowledged.