TRAINING, CONCEPTUAL DELIMITATIONS. ADAPTATION OF TRAINING TO REGIONAL RISKS AND THREATS
Abstract
The training of army personnel is a complex, adaptive, continuously optimized process, in terms of efficiency, designed to effectively fulfill the fundamental missions of the army, in accordance with national interests and international commitments.
This approach aims to identify training optimization solutions, from the perspective of adapting to the dynamics of the operational environment. After the identification of the manner evolution of the concepts of strength training and by outlining a training optimization model, the research will follow the validation of the hypothesis that training optimization is achieved according to the evolution of risks and threats to regional security. With the structuring of some specific concepts to the approached field, these will be able to complete the content of the Doctrine of the Romanian Army Training, in order to offer a doctrinal framework adapted to the training needs in the conditions of the modern war.
The novelty of this article is based on the identification of content elements for adapting the doctrine of military training to new regional risks and threats, taking under consideration the need for strength training in the reality of the operational environment in the wider Black Sea region and neighboring regions. 
Keywords: training; standardization; optimization; efficiency.
References
*** Strategia militară a României, Bucharest, 2016.
*** Strategia națională de apărare a țării pentru perioada 2015-2019.
*** Doctrina instruirii Armatei României, Bucharest, 2006.
*** SACEURs annual guidance on NATO education, training, exercise and evaluation 2017-2021.
[Clubul amiralilor], Amiralul Dr. Gheorghe Marin în elita Armatei României, Technic-Editorial Center of Army Publishing House, Bucharest, 2010.
[Army Regulation 350–1], Army Training and Leader Development, Headquarters Department of the Army, Washington DC, 2017.
[Bi-SC 75-002], Education, training, exercise and evaluation directive (ETE&ED), NATO, 2013.
[Bi-SC 75-003], Collective training and exercise directive, CT&ED, NATO, 2013.
[Bi-SC 75-007], Educational and individual Training directive, E&ITD, NATO, 2015.
Macavei Elena, Educație, instruire, învățare, "Lucian Blaga" University from Sibiu, 2005.
Noveanu Eugen, Științele educației, Sigma Publishing House, Bucharest, 2006.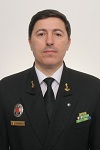 Downloads
How to Cite
SCIPANOV , L. V., & CHIREA , N. . (2020). TRAINING, CONCEPTUAL DELIMITATIONS. ADAPTATION OF TRAINING TO REGIONAL RISKS AND THREATS. BULLETIN OF "CAROL I" NATIONAL DEFENCE UNIVERSITY, 9(3), 53–61. https://doi.org/10.12753/2284-9378-20-37
License
The published articles are subject to copyright law. All rights are reserved to the "Carol I" National Defense University, regardless of whether all or part of the material are considered, especially the rights to translation, reprinting, re-use of illustrations, quotations, broadcasting through the media, reproduction on microfilms or any other way and storage in data banks. Any replicas without the associated fees are authorized provided the source is acknowledged.