THE OPPORTUNITY FOR USING REMOTELY OPERATED UNDERWATER VEHICLES IN SUPPORT OF NAVAL ACTIONS
Abstract
There is an international trend for research and development programs aiming to provide fleets with modern combat systems. Remotely piloted underwater vehicles represent a capability that occupies an important place in the concerns of the naval forces, so they have experienced an evolutionary stage with a great technological advance as compared to other classic combat systems.
Although a large-scale military action is considered unlikely, there are general concerns about minimizing risks on the battlefield, in order to avoid the loss of human lives, so a handy option was to capitalize on the technological advance we are witnessing, leaving dangerous and routine tasks to robots. Anticipating a future widespread use of unmanned systems, this article is a plea for the use of remotely piloted vehicles for missions in the underwater environment, an environment hostile to human life but permissive to specialized vectors.
The novelty of this article is that it presents some tactical advantages that a naval force can benefit from in the future by using robots and autonomous systems that influence underwater and surface operations.
Keywords: remotely piloted vehicles; underwater drones; technological revolution.
References
Clausewitz Carl von, On war, Princeton University Press, 1832.
Crowley Michael, Hassan Falih, Schmitt Eric, US Strike in Iraq Kills Qassim Suleimani, Commander of Iranian Forces, https://www.nytimes.com/2020/01/02/world/middleeast/qassem-soleimani-iraq-iran-attack.html
Lt.Gen. Deptula Dave The Way Ahead: Remotely Piloted Aircraft in the United States Air Force, http://www.daytonregion.com/pdf/UAV_Rountable_5.pdf
Hambing David, The Inescapable Net: Unmanned Systems in Anti-Submarine Warfare, Parliamentary Briefings on Trident Renewal, March 2016.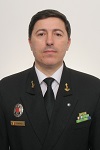 How to Cite
SCIPANOV , L. V., & DOLCEANU, D. . (2020). THE OPPORTUNITY FOR USING REMOTELY OPERATED UNDERWATER VEHICLES IN SUPPORT OF NAVAL ACTIONS. BULLETIN OF "CAROL I" NATIONAL DEFENCE UNIVERSITY, 9(3), 62–68. https://doi.org/10.12753/2284-9378-20-38
License
The published articles are subject to copyright law. All rights are reserved to the "Carol I" National Defense University, regardless of whether all or part of the material are considered, especially the rights to translation, reprinting, re-use of illustrations, quotations, broadcasting through the media, reproduction on microfilms or any other way and storage in data banks. Any replicas without the associated fees are authorized provided the source is acknowledged.