BEYOND THE SACRED AND PROFANE ‒ MAN IN CYBERSPACE ‒
Abstract
Since the beginning of humanity, man has oscillated between two ontological spaces: sacred and profane. In all the great religions of the world, man understands his purpose on this earth as a search or passage to an eternity of happiness, a space and a time before which he incur an incurable nostalgia. The telluric weather and the nostalgia of paradise compel man to invoke divinity, building for this meeting sacred spaces. Technological progress and new philosophical currents have tried to cure man of this nostalgia for ever, perfecting the death of divinity. In an unprecedented creative momentum, the man got up truffles, daring to believe that he can become a creator himself. Cyberspace is the most spectacular revolution of human intelligence, in full swing. What is man related to his creation?
References
Benedikt Michael, "Cyberspace: First Steps", Cambridge, The MIT Press, 1991, apud Bogdan Nadolu, "Sociology of mass communication", Edition Excelsior Art, Timișoara, 2007.
Crainic Nichifor, Nostalgia paradisului, Edition with an introductory studio by Dumitru Staniloaie, Babel Publishing House, Bacău, 2012.
Eliade Mircea, The Sacred and the Profane, translation by Brândușa Prelipceanu, Humanitas Publishing House, Bucharest, 1995.
Larchet Jean-Claude, Captivi în Internet, in Romanian by Marinela Bojin, Sofia Publishing House, Bucharest, 2018.
Nadolu, Bogdan, Sociologia comunicării de masă, Excelsior Art Publishing House, Timișoara, 2007.
Nadolu Bogdan, Sociologia spațiilor virtuale, Eurostampa Publishing House, Timișoara, 2004.
Snowden Edward, Dosar permanent, Nemira Publishing House, Bucharest, 2019.
Țuțea Petre, Omul. Tratat de antropologie creștină. Problemele sau cartea întrebărilor, Philosophia Perennis Colections, Timpul Publishing House, 1992.
Vintilă Horia, Dumnezeu s-a născut în exil. Jurnalul lui Ovidiu la Tomis, French translation by Ileana Cantuniari, Vremea Publishing House, Bucharest, 2016.
https://www.techopedia.com/definition/2493/cyberspace
https://www.eff.org/cyberspace-independence
https://religiousstudies.duke.edu/courses/religion-cyberspace
https://www.researchgate.net/publication/332274714_WHEN_RELIGION_MEETS_THE_INTERNET_Cyber-Religion_and_the_Secularization_Thesis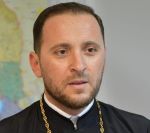 Downloads
License
The published articles are subject to copyright law. All rights are reserved to the "Carol I" National Defense University, regardless of whether all or part of the material are considered, especially the rights to translation, reprinting, re-use of illustrations, quotations, broadcasting through the media, reproduction on microfilms or any other way and storage in data banks. Any replicas without the associated fees are authorized provided the source is acknowledged.