POSSIBLE EFFECTS OF COVID-19 PANDEMIC ON NATO POLICY
Abstract
The COVID-19 pandemic brought to the fore some divergent ideas that are added to the list of those already existing within NATO. Pivoting the Alliance's efforts to fight the new coronavirus (and future outbreaks) requires a different set of military capabilities. The pandemic could further contribute to a shift in NATO's strategic geography from an east-west to a north-south axis and, at the same time, shift the focus on military spending and defence preparation away from the eastern border to the Mediterranean. We are also dealing with an amplification of the Russian propaganda campaign whose target audience seems to be the population of southern and western Europe and which could call into question the value of an alliance that is not effective in the response to the crisis created by the new virus. It makes the London agenda obsolete and the Allies find the most appropriate answers and topics for discussion at the next summit in October in Beverly Hills, California, USA.
References
*** Carta albă a apărării, Bucharest, 2017.
https://www.bbc.com
https://www.euractiv.com
https://monitorulapararii.ro/
https://www.nato.int
https://www.nytimes.com
http://www.static.kremlin.ru
https://www.who.int
https://www.pri.org
http://www.rfi.fr
https://www.defenseone.com/ideas
https://carnegieeurope.eu
https://www.dw.com
https://www.telegraph.co.uk
http://www.energynomics.ro/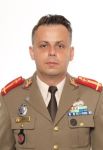 Downloads
License
The published articles are subject to copyright law. All rights are reserved to the "Carol I" National Defense University, regardless of whether all or part of the material are considered, especially the rights to translation, reprinting, re-use of illustrations, quotations, broadcasting through the media, reproduction on microfilms or any other way and storage in data banks. Any replicas without the associated fees are authorized provided the source is acknowledged.