MANAGEMENT OF HUMAN RESOURCES THROUGH INTERNAL MANAGEMENT CONTROL STANDARDS
Abstract
Human resource is the most important value of any organization. Maintaining a high-quality human resource must be the principal objective of any army commander. Some of the internal management standards are especially dedicated to this aim. Managers need to implement in a smart way these standards for the progress of organizations. Without highly qualified people there is no progress in an organization.
References
*** Law no. 346/2006 regarding the organization and functioning of the Ministry of National Defense, published in the Official Journal of Romania, Part I, no. 654, Bucharest, July 28, 2006, republished.
*** Law no. 53/2003 ̶ Labor Code, republished, with subsequent amendments and completions.
*** Law no. 115/1996 for the declaration and control of the wealth of the dignitaries, magistrates, of persons with management and control functions and of the civil servants, with the subsequent modifications and completions.
*** Law no. 251/2004 regarding some measures regarding the goods received free of charge on the occasion of protocol actions in the exercise of the mandate or function.
*** Law 455 of 18.07.2001 on electronic signature, republished in the Official Journal of Romania no. 316 of April 30, 2014.
*** Order no. M.100 / 2019 for the approval of the Methodological Norms regarding the system of internal managerial control in the Ministry of National Defense.
Krogerus Mikael, Tschäppeler Roman, The Decision Book, Fifty models for strategic thinking, PROFILE BOOKS LTD, England, 2017.
Pânișoară Georgeta, Pânișoară Ion-Ovidiu, Human Resources Management - Practical Guide, Second Edition, Polirom Publishing House, 2005, Bucharest.
https://en.wikipedia.org/wiki/Sindromul_burnout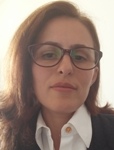 Downloads
License
The published articles are subject to copyright law. All rights are reserved to the "Carol I" National Defense University, regardless of whether all or part of the material are considered, especially the rights to translation, reprinting, re-use of illustrations, quotations, broadcasting through the media, reproduction on microfilms or any other way and storage in data banks. Any replicas without the associated fees are authorized provided the source is acknowledged.