ROMANIA'S ROLE IN ACHIEVING REGIONAL ORDER IN THE BLACK SEA AREA
Abstract
Romania as a European maritime state, a member of the most important organizations in the Euro-Atlantic area, NATO and the European Union, is now asserting itself, as a state-recognized in terms of its status, in a period with challenges but also with multiple opportunities. The role of Romania in the realization of the regional order in the Black Sea area is important and it is achieved by intensifying the political, economic or diplomatic measures, but also by intensifying the efforts to strengthen the interoperability at NATO or EU level, in support of the efficiency of the Allied deterrence and defense mechanisms. 15 years after Romania's accession to NATO, it is in a favorable position to strengthen the national defense capacity, which includes the realization of the capabilities necessary to make our response to symmetrical and asymmetrical threats more efficient. Thus, starting with 2017, Romania has fulfilled its commitment to NATO regarding the allocation of 2% of GDP for defense, in order to continue the transformation and modernization process.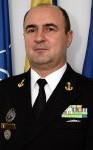 Downloads
How to Cite
PANAIT, M., & CRĂCIUN, I. . (2020). ROMANIA'S ROLE IN ACHIEVING REGIONAL ORDER IN THE BLACK SEA AREA. BULLETIN OF "CAROL I" NATIONAL DEFENCE UNIVERSITY, 8(4), 12–18. https://doi.org/10.12753/2284-9378-19-02
License
The published articles are subject to copyright law. All rights are reserved to the "Carol I" National Defense University, regardless of whether all or part of the material are considered, especially the rights to translation, reprinting, re-use of illustrations, quotations, broadcasting through the media, reproduction on microfilms or any other way and storage in data banks. Any replicas without the associated fees are authorized provided the source is acknowledged.