THE MANNER OF ACCOUNTING FOR NON-CURRENT ASSETS, INVENTORIES AND EXPENDITURES WITH HUMAN RESOURCES IN ENTITIES OF THE MINISTRY OF NATIONAL DEFENCE, ACCORDING TO THE CURRENT LEGISLATION CONFIGURED ON THE BASIS OF INTERNATIONAL PUBLIC SECTOR ACCOUNTING STAN
Abstract
Part of the military science, together with the theory of organization and training of troops, with the C2 system / command and control in the army and with the other components, the financial-accounting management in the military field implies the knowledge of the legal norms that regulate the financial-accounting activities, their organization, use, permanent management and monitoring of the use of financial resources. International Public Sector Accounting Standards / IPSAS are a set of rules developed for the purpose of their application within public institutions in order to complete and submit financial statements. Public accounting is a branch of economic science that aims to highlight operations related to the components and dynamics of public property and its sources of financing. The general framework for drawing up and presenting the financial statements sets out the concepts underlying this process. In its capacity as a basic component of the financial-accounting management in the Ministry of National Defence, accounting is organized and conducted on the basis of the regulations in force, both at the level of the principal authorizing officer for his own activity, and at the level of about 350 secondary and tertiary authorities of loans. We have highlighted some specific features of the public accounting of the Ministry of Defence, in particular some regarding the management of the current assets of the inventory invoice, as well as the personnel expenses.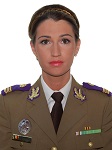 Downloads
How to Cite
ENACHE, C., & NICA, D. (2020). THE MANNER OF ACCOUNTING FOR NON-CURRENT ASSETS, INVENTORIES AND EXPENDITURES WITH HUMAN RESOURCES IN ENTITIES OF THE MINISTRY OF NATIONAL DEFENCE, ACCORDING TO THE CURRENT LEGISLATION CONFIGURED ON THE BASIS OF INTERNATIONAL PUBLIC SECTOR ACCOUNTING STAN. BULLETIN OF "CAROL I" NATIONAL DEFENCE UNIVERSITY, 8(4), 95–105. https://doi.org/10.12753/2284-9378-19-14
License
The published articles are subject to copyright law. All rights are reserved to the "Carol I" National Defense University, regardless of whether all or part of the material are considered, especially the rights to translation, reprinting, re-use of illustrations, quotations, broadcasting through the media, reproduction on microfilms or any other way and storage in data banks. Any replicas without the associated fees are authorized provided the source is acknowledged.