NATIONAL LEGISLATIVE FRAMEWORK IN THE FIELD OF PUBLIC ACCOUNTING FOR NON-CURRENT ASSETS, INVENTORIES AND EXPENDITURES WITH HUMAN RESOURCES: PREMISES, MOTIVATIONS AND EVOLUTION UNTIL PRESENT
Abstract
It is necessary to study the occurrence, evolution and the main provisions in the field of the accounting system in order
to identify those aspects that have been taken into account from the beginning to bring this system to the current state. The adoption by the IPSASB/Council for International Public Sector Accounting Standards of IPSAS represented a measure of international accounting harmonization. And our country joined this effort and implemented in the public sector IPSAS, including within the entities of the Ministry of National Defense, where the evolution of the accounting took place in the context of the development of the public accounting in Romania. After 2005, a series of normative acts designed to bring the accounting system in Romania to the level of the states within the international community to which our country joined. Each military unit organizes its quantitative-value accounting using the plan of accounts and the application instructions developed by the Ministry of National Defense and endorsed by the Ministry of Public Finance.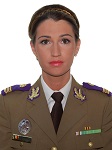 Downloads
License
The published articles are subject to copyright law. All rights are reserved to the "Carol I" National Defense University, regardless of whether all or part of the material are considered, especially the rights to translation, reprinting, re-use of illustrations, quotations, broadcasting through the media, reproduction on microfilms or any other way and storage in data banks. Any replicas without the associated fees are authorized provided the source is acknowledged.