BULLETIN OF "CAROL I" NATIONAL DEFENCE UNIVERSITY No.2/2019
Abstract
The Bulletin of "Carol I" National Defense University published by the Publishing House of the University is a quarterly scientific, peer-reviewed journal from Bucharest, Romania.
The aim of Bulletin is to disseminate the results of the theoretical and practical research investigations undertaken by reputable professionals in the holistic field of defense resources management.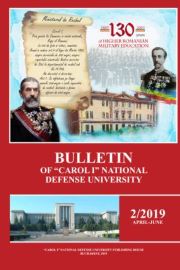 Downloads
License
The published articles are subject to copyright law. All rights are reserved to the "Carol I" National Defense University, regardless of whether all or part of the material are considered, especially the rights to translation, reprinting, re-use of illustrations, quotations, broadcasting through the media, reproduction on microfilms or any other way and storage in data banks. Any replicas without the associated fees are authorized provided the source is acknowledged.