BULLETIN OF "CAROL I" NATIONAL DEFENCE UNIVERSITY No.3/2019
Abstract
The Bulletin of "Carol I" National Defense University published by the Publishing House of the University is a quarterly scientific, peer-reviewed journal from Bucharest, Romania.
The aim of Bulletin is to disseminate the results of the theoretical and practical research investigations undertaken by reputable professionals in the holistic field of defense resources management.
The continuous changes at the level of higher military education in Romania, and especially those produced in the dissemination of information, have affected the means of communication and use at the level of human knowledge. The political, economic and social changes that have taken place over the years have also had a strong influence on how the military specialists, involved in the education process were to be informed. Thus, "Carol I" National Defense University Bulletin represents a forum for debate and analysis for academic and professional backgrounds and it is open to teachers, researchers, doctoral students and postdoctoral students, students, military and civilian personnel, to institutions belonging to the sphere of defense, public order and national security.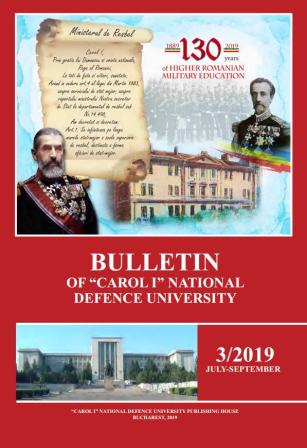 Downloads
How to Cite
Tudorache, I. (2019). BULLETIN OF "CAROL I" NATIONAL DEFENCE UNIVERSITY No.3/2019. BULLETIN OF "CAROL I" NATIONAL DEFENCE UNIVERSITY, 8(3). Retrieved from https://revista.unap.ro/index.php/bulletin/article/view/631
License
The published articles are subject to copyright law. All rights are reserved to the "Carol I" National Defense University, regardless of whether all or part of the material are considered, especially the rights to translation, reprinting, re-use of illustrations, quotations, broadcasting through the media, reproduction on microfilms or any other way and storage in data banks. Any replicas without the associated fees are authorized provided the source is acknowledged.