COMPETITIVE INTELLIGENCE AND OPEN SOURCE INTELLIGENCE – USEFUL TOOLS FOR COMPETITIVE BUSINESS
Keywords:
competitive intelligence;, open-source intelligence;, business-intelligence;, methods;, instruments;, social media
Abstract
According to principles of economic security, in this era of globalization and interdependencies, we understand that economic agents work competitively in uncertain markets. In the current international economic field, we cannot find either a perfect balance or long-term security conditions. Yet, this insecurity has the ability to stimulate the competitive field, to encourage innovation and adaptive competences. The anticipation of rapid evolutions and transformations which occur within markets or different industries represents a challenge which company managers handle with increasing difficulty. Even though much scholarly attention is paid to conceptual elements of competitive intelligence and its benefits, little is known about the way open-source intelligence can act like an instrument. This paper addresses this gap in the literature and analyze the way open-source intelligence can provide support for competitive intelligence actions.
References
Bean, Hamilton. 2011. No More Secrets: Open Source Information and the Reshaping Od U.S.
Intelligence. Praeger.
Bernhardt, Douglas. 2003. Competitive Intelligence: How to Acquire and Use Corporate Intelligence
and Counter-Intelligence. Edited by Financial Times Prentice Hall.
Cavallo, Angelo, Silvia Sanasi, Antonio Ghezzi, and Andrea Rangone. 2021. "Competitive intelligence
and strategy formulation: connecting the dots." Competitineness Review vol. 31 (no. 2): 250-275.
doi:https://doi.org/10.1108/CR-01-2020-0009.
Clark, Robert M. 2013. Intelligence Collection. Sage Publications.
Coșea, Mircea. 2006. Manual de Economie.
Bulletin of "Carol I" National Defence University
December 2022
Dixit, Avinash. 2012. "Paul Samuelson's Legacy." Annual Review of Economics 4 (1): 31. doi:https://
doi.org/10.1146/annurev-economics-080511-110957.
Harbulot, Christian, and Philippe Baumard. 1997. Perspective Historique de L´Intelligence
Economique. Intelligence Économique. https://www.ege.fr/sites/ege.fr/files/downloads/16.
perspective_historique.pdf.
Ministry of Finance. n.d. Agenţi economici şi instituţii publice – date de identificare, informaţii fiscale,
bilanţuri. Accessed noiembrie 11, 2022. https://mfinante.gov.ro/domenii/informatii-contribuabili/
persoane-juridice/info-pj-selectie-dupa-cui.
NATO. 2001. NATO Open Source Intelligence Handbook. https://www.academia.edu/4037348/NATO_
Open_Source_Intelligence_Handbook.
Williams, Heather J., and Ilana Blum. 2018. Defining Second Generation OSINT for the Defense
Enterprise. RAND Corporation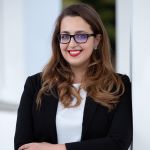 Downloads
License
The published articles are subject to copyright law. All rights are reserved to the "Carol I" National Defense University, regardless of whether all or part of the material are considered, especially the rights to translation, reprinting, re-use of illustrations, quotations, broadcasting through the media, reproduction on microfilms or any other way and storage in data banks. Any replicas without the associated fees are authorized provided the source is acknowledged.