THE HYBRID WAR CONCEPT EVOLUTION IN ROMANIA'S NATIONAL DEFENCE STRATEGIES
Keywords:
strategy;, security; ., defence;, aggression;, hybrid warfare
Abstract
The disappearance of the bipolar hegemonic character, the globalization process, the preservation of some hegemonic statutes and the hybrid aggressions emergence against the tense competitive markets and resources background were the
key factors that led to international security environment major changes, fact that required a national defence rethinking, based on new risks and state threats. The way national defence strategies are designed and their content have varied
from one period to another, depending on international events, economic crises, geopolitical games as well as past and present affiliations with regional or international institutions and organizations. The hybrid war concept was graduallly
introduced in the defence strategies, initially being associated with some more well-known patterns such as asymmetric, informational aggression, terrorism or cyber attacks. However, considering that the conceptual boundaries between peace
and war were diluted, they would all need a better nuanced, developed and argued approach.
References
"Ovidiu Şincai" Institute. 2006. "Analysis of Romania's National Security Strategy." Political analysis
report, Bucharest.
Afas. 2006. "Romania's National Security Strategy." European Romania, Euro-Atlantic Romania: for a
better life, in a safer, democratic and prosperous country. https://afas.ro/wp-content/uploads/2016/09/
Strategia-de-securitate-nationala-a-Romaniei.pdf.
Buzan, Barry, Morten Kelstrup, and Pierre Lemaitre. 1993. Identity, Migration and the New Security
Agenda in Europe, Pinter, London. London: Pinter.
Buzan, Barry, Ole Wæver, and Jaap de Wilde. 1998. Security a new Framework for Analysis. London:
Lynne Rienner Publishers.
Chirleșean, Georgeta. 2013. Romania's national security strategy: developments and trends between
regional and Euro-Atlantic security. Sibiu : "Nicolae Balcescu" Academy of Land Forces Publishing
House.
Council of the European Union. 2009. "European Security Strategy – A secure Europe in a better world."
—. 2009. "The European Security Strategy identifies five threats: terrorism, the proliferation of weapons
of mass destruction, regional conflicts, failed states, organized crime." https://www.consilium.
europa.eu/media/30815/qc7809568roc.pdf.
Dima, Octavian Victor Mihail. 2019. "Social Security in the Current System" Bulletin of "Carol I"
National Defence University 6 (3): 30-34.
Ministry of National Defence. 2017. "Defence White Paper." https://www.cybercommand.ro/app/
webroot/fileslib/upload/files/legislatie/carta_alba.pdf.
Ministry of National Defence. 2021. "Romania's military strategy – Credible defensive capacity, for a
secure Romania, in a world marked by new challenges." Bucharest.
Ministry of National Defence. 2016. "Romania's military strategy – Modern armed forces, for a strong
Romania in Europe and in the world." Bucharest.
Presidential Administration. 2015-2019. "The National Defence Strategy of the country." A strong
Romania in Europe and in the world. https://www.presidency.ro/files/userfiles/Strategia_Nationala_
de_Aparare_a_Tarii_1.pdf.
—. 2020. "The National Defence Strategy of the country for the period 2020-2024." https://www.
presidency.ro/files/userfiles/Documente/Strategia_Nationala_de_Aparare_a_Tarii_2020_2024.pdf.
Romanian Government. 2016. "Decision no.708/2016 for the approval of the Military Strategy of
Romania." http://lege5.ro/Gratuit/geztanjsgezq/hotararea-nr-708-2016-pentru-aprobarea-strategieimilitare-a-romaniei.
Romanian Information Service. n.d. "The strategic vision of SRI 2007-2010." Accessed August 08,
https://www.sri.ro/upload/viziunea.pdf.
Romanian Parliament. 2003. The Romanian Constitution. https://www.presidency.ro/ro/presedinte/
constitutia-romaniei.
Bulletin of "Carol I" National Defence University
September 2022 61
The Supreme Council of defence of the country. 2010. "National Defence Strategy." For a Romania that
guarantees the security and prosperity of future generations. http://www.cdep.ro/caseta/2010/08/31/
hp100622_CSAT.pdf.
Vasilescu, Captain-Commander Alfred. 2012. The emergence of non-conventional aggressions and
their influence on security policies. PhD thesis, Bucharest: "Carol I" National Defence University,
Ministry of National Defence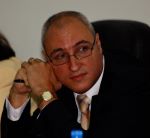 Downloads
License
The published articles are subject to copyright law. All rights are reserved to the "Carol I" National Defense University, regardless of whether all or part of the material are considered, especially the rights to translation, reprinting, re-use of illustrations, quotations, broadcasting through the media, reproduction on microfilms or any other way and storage in data banks. Any replicas without the associated fees are authorized provided the source is acknowledged.