COUNTERING HYPERSONIC THREAT
Keywords:
: hypersonic speed;, countering hypersonic missiles, missile, hypersonic vehicle;, anti-missile systems
Abstract
Hypersonic missiles represent the new class of threats, capable declaratively and in a way that has not been proven in a theater of operations, to annihilate air and anti-missile defences that exist at this time. The sum of the new threat's
characteristics, high speed, increased maneuverability, and low flight altitude, get major concerns for air and missile defence, as effective detection and combat are reduced by compressing available time. Rethinking how to combat the new threats
thus represents the main concern of military specialists in countries that want to complete their arsenals with new weapons.
References
Acton, James M. 2018. "Hypersonic Weapons Explainer." Carnegie Endowment for International Peace.
Aprilie. https://carnegieendowment.org/2018/04/02/hypersonic-weapons-explainer-pub-75957.
Annual Report to Congress. 2021. Military and Security Developments Involving the People's Republic
of China. Report, Department of Defence, Office of the Secretary of defence. https://media.defence.
gov/2021/Nov/03/2002885874/-1/-1/0/2021-CMPR-FINAL.PDF.
Bugos, Shannon. 2022. "U.S. Rushes Hypersonic Development." Arms Control Association. Iunie 22.
https://www.armscontrol.org/act/2022-06/news/us-rushes-hypersonic-development.
Chiriac, Cătălin. 2020. "Provocarea rachetelor hipersonice." Impact strategic 1 (74).
Department of Defence. 2018. "Summary of the 2018 National Defence Strategy of the United States
of America: Sharpening the American Military's Competitive Edge." Washington, DC. https://dod.
defence.gov/Portals/1/Documents/pubs/2018-National-Defence-Strategy-Summary.pdf.
Karako, Tom, and Masao Dahlgren. 2022. "Complex Air Defence, Countering the Hypersonic Missile
Threat." A Report of the CSIS Missile Defence Project, Center for Strategic & International Studies.
https://www.csis.org/analysis/complex-air-defence-countering-hypersonic-missile-threat.
Mahshie, Abraham. 2022. "Hypersonics Defence, How hypersonic weapons maneuver and what to do
about it." Air Force Magazine. https://www.airforcemag.com/article/hypersonics-defence/.
NATO Term. 2022. "NATO Term, The Official NATO Terminology Database." NSO NATO. https://nso.
nato.int/natoterm/Web.mvc.
Sayler, Kelley M. 2022. Hypersonic Weapons: Background and Issues for Congress. Actualizat la 5 mai
, Congressional Research Service. https://crsreports.congress.gov.
Sayler, Kelley M, and Stephen M. McCall. 2022. Hypersonic Missile Defence: Issues for Congress.
Actualizat la 6 ianuarie 2022, Congressional Research Service. https://crsreports.congress.gov/.
Shaikh, Shaan. 2021. "China's Hypersonic Future." Missile Threat, Center for Strategic and International
Studies. https://missilethreat.csis.org/chinas-hypersonic-future/.
Tirpak, John A. 2021. "Catching Up on Hypersonics." Air Force Magazine 45. https://www.airforcemag.
com/article/catching-up-on-hypersonics/.
Wilson, Rober S. 2021. "The Hypersonic Missile Debate." The Aerospace Corporation, Center
for Space Policy and Strategy. https://csps.aerospace.org/sites/default/files/2021-08/Wilson_
HypersonicMissileDebate_20210112_1.pdf.
Woolf, Amy F. 2022. "Russia's Nuclear Weapons: Doctrine, Forces, and Modernization." Updated on
April 21, 2022. https://crsreports.congress.gov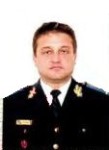 Downloads
How to Cite
CHIRIAC, C. (2022). COUNTERING HYPERSONIC THREAT . BULLETIN OF "CAROL I" NATIONAL DEFENCE UNIVERSITY, 11(3), 38–45. https://doi.org/10.53477/2284-9378-22-80
License
The published articles are subject to copyright law. All rights are reserved to the "Carol I" National Defense University, regardless of whether all or part of the material are considered, especially the rights to translation, reprinting, re-use of illustrations, quotations, broadcasting through the media, reproduction on microfilms or any other way and storage in data banks. Any replicas without the associated fees are authorized provided the source is acknowledged.