RETRO RUNNING – A TREND IN THE PHYSICAL TRAINING OF THE MILITARY
Keywords:
military physical education, retro running, treadmill, training
Abstract
Running is one of the simplest and most practical ways to keep your body fit. Retro running is an excellent way of training that must be introduced in the process of systematic physical training of the military, being remarkable for the development of the conditioned and coordinative abilities necessary to improve their physical performance. It will develop the cardiovascular system, tone the muscles and strengthen the bones and ligaments throughout the body.
References
Cavagna, G. A., Legramandi Mario, A. și La Torre, A. (2010). "Running backwards: soft landing–hard takeoff, a less efficient rebound". Proceedings of the Royal Society B.
Cuore. 2022. Accesat la 13.02.2022. https://www.oliocuore.it/benessere/retrorunning-una-corsa-al-contrario-a-favore-del-benessere.
Grolle, Christian; Ahau, Carole; Ahau, Christian. 2009. Retro running regeneration: La course arrière est l'avenir du monde. McFarland, SUA: Books On Demand.
Marathon Handbook. 2022. Accesat la 09.02.2022. https://marathonhandbook.com/retro-running-backwards.
Masumoto, Kenji; Galor, Kendell; Craig-Jones, Andrew; Mercer, John A. 2019. "Metabolic cost during backward running with body weight support". International Journal of Sports Medicine.
Morton, C. 2016. "Running Backward May Help Athletes Move Forward". The Physician and Sportsmedicine.
Siik, D. 2015. The Ultimate Treadmill Workout: Run Right, Hurt Less, and Burn More with Treadmill Interval Training. Avon - SUA: Adams Media Corporation.
Stevenson, R.K. 2014. Backwards Running. CreateSpace Independent Publishing Platform.
Technogym. 2022. Accessed on 08.02.2022. https://www.technogym.com/us/newsroom/retro-running-benefits.
Thomas Dold. 2022. Accessed on 11.02.2022. https://www-thomasdold-com.translate.goog/de/rueckwaertslaufen?_x_tr_sch=http&_x_tr_sl=de&_x_tr_tl=ro&_x_tr_hl=ro&_x_tr_pto=sc.
University of Oregon. 2022. Accessed on 10.02.2022. https://darkwing.uoregon.edu/~btbates/backward/backward1.htm.
Uthoff, Aaron; Oliver, Jon, Cronin, John; Harrison, Craig; Winwood, Paul. 2018. "A New Direction to Athletic performance: Understanding the Acute and Longitudinal Responses to Backward Running". Sports Medicine.
Verywellfit. 2022. Accessed on 14.02.2022. https://www.verywellfit.com/walking-and-jogging-backwards-on-the-treadmill-3436642.
Wegner, R. 2010. Retrorunning: Rückwärts zu neuen Zielen. Hamburg ‒ Germania: spomedis GmbH.
Williams, J. 2020. Running Backward. Conneaut Lake - SUA: Page Publishing, Inc.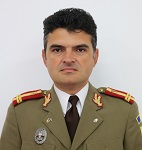 Downloads
License
The published articles are subject to copyright law. All rights are reserved to the "Carol I" National Defense University, regardless of whether all or part of the material are considered, especially the rights to translation, reprinting, re-use of illustrations, quotations, broadcasting through the media, reproduction on microfilms or any other way and storage in data banks. Any replicas without the associated fees are authorized provided the source is acknowledged.