THE ROLE OF INTELLIGENCE IN MAINTAINING COMBAT POWER DURING CONTEMPORARY MILITARY OPERATIONS
Keywords:
security environment, intelligence, combat functions, threats
Abstract
The contemporary security environment is undergoing periodical radical changes in which more and more diversified threats are emerging, determining that the age in which we live is marked by crises of a different nature. That is why the use of intelligence has become a concern of military and political decision makers, especially in terms of its integration into combat functions to ensure and maintain a high combat capability and thus the combat power necessary to achieve objectives / mission. The peculiarities and specific features of modern / contemporary military conflicts, as well as the influence of technological evolution or, as specialists call it, the revolution in military affairs has led to changes including in the field of military intelligence, which is essential to keep up with the present and anticipate the future. These changes have led to changes in the place and role of military intelligence in the military phenomenon, changes in doctrines, techniques, tactics and procedures, and the readjustment of requirements to the changes applied. Military intelligence structures must be conceptually integrated and not only with the other collection capabilities of the National Defence System, Public Order and National Security.
References
APD ARMY PUBLISHING DIRECTORATE. n.d. "FM 2-0 – Intelligence, 2018". Accessed on 01.03.2022. https://armypubs.army.mil/ProductMaps/PubForm/FM.aspx.
Armistead, L. 2004. Information Operations: Warfare and the Hard Reality of Soft Power. Washington DC: Brassey՚s Inc.
Department of the Army, Headquarters,US. 2019. ADP 2-0 Intelligence: Lulu Press Inc.
F.T. – 1, Doctrina operațiilor forțelor terestre. 2017. Bucharest.
goodreads. n.d. "Albert Einstein quotes." Accessed on 01.11.2022. https://www.goodreads.com/author/quotes/9810.Albert-Einstein.
I.A. – 1.1, Doctrina informațiilor pentru apărare. 2017. Bucharest.
Ionescu, Dudu. 2015. "Nevoia de avert"izare timpurie în contextul securitar actual". Intelligence, 06.10.2015. Accessed on 12.18.2021. https://intelligence.sri.ro/nevoia-de-avertizare-timpurie-contextul-securitar-actual.
ORACLE. n.d. "Ce este Machine Learning?" Accessed on 01.11.2022. www.oracle.com/ro/artificial-intelligence/what-is-machine-learning.html.
presidency.ro. 2020. "Strategia națională de apărare a țării pentru perioada 2020-2024." Accessed on 11.01.2022. https://www.presidency.ro/files/userfiles/Documente/Strategia_Nationala_de_Aparare_a_Tarii_2020_2024.pdf.
General Secretariat of the Guvernment. 2021. "Carta Albă a Apărării". Accessed on 12.18.2021. https://sgg.gov.ro/1/wp-content/uploads/2021/03/CARTA-ALBA-A-APARARII-.pdf.
Stanciu, Cristian. 2016. Fizionomia operațiilor militare în mediul de securitate contemporan, Bucharest: "Carol I" National Defence University Publishing House.
Army General Staff, Section Information and Public Relations. 2019. "Exercițiul interinstituțional CONCORDIA 19, Communicate no. 93." Accessed on 01.04.2022. www.defence.ro/exercitiul-interinstituțional-concordia-19.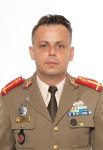 Downloads
License
The published articles are subject to copyright law. All rights are reserved to the "Carol I" National Defense University, regardless of whether all or part of the material are considered, especially the rights to translation, reprinting, re-use of illustrations, quotations, broadcasting through the media, reproduction on microfilms or any other way and storage in data banks. Any replicas without the associated fees are authorized provided the source is acknowledged.