CONSIDERATIONS ON THE DESIGN OF THE AIR DEFENCE RESPONSE IN THE CURRENT AIRSPACE
Keywords:
air threat; VSHORAD; SHORAD; TEWA; operational art.
Abstract
The unprecedented technological development in the field of weapons and ammunition used in the airspace, at low and very low altitudes, is one of the major challenges that the traditional air defence systems have to face. To this end, the military specialists of the modern armies pay special attention to the new types of air threats and seek solutions to maintain a balanced situation in the field of airspace security. In this regard, a number of transformations of the VSHORAD, SHORAD air defence missile systems are identified. The technical and tactical solutions mainly refer to increasing the capabilities of the weapons and ammunition systems, which can be used in achieving the specific algorithm of countering an air threat by applying certain specific methods, TEWA (Threat Evaluation and Weapons Allocation). This scientific approach highlights the possibilities of taking short and very short range air action as a starting point in the current development of the air defence systems, which by applying the operational art can temporarily compensate for the technological gap between the air threats and the air defence response.
References
*** FM 3-09.34 Kill Box Tactics and Multiservice Procedures, https://publicintelligence.net/fm-3-09-34-kill-box-tactics-and-multiservice-procedures
*** Join/Interagency SMARTbook: Joint strategic & operational planing, The Lightning Press Ferlemann, 2019.
Iversen F. Thomas, Mobile and Netted Air Defence Systems, DK-8520 Lystrup, Denmark.
Johansson Fredrik, Falkman Göran, SWARD: System for Weapon Allocation Research & Development, University of Skövde School of Informatics, https://www.researchgate.net/publication/224218743_SWARD_System_for_weapon_allocation_research_development
Robbins P. Stephen, Organizational Theory: Structure, Design, and Applications, Prentice Hall, New Jersey, 1990.
Roman Daniel, Riposta antiaeriană a forţelor terestre din perspectiva modelelor conceptuale de lucru colaborativ, "Carol I" National Defence University Publishing House, Bucharest, 2017.
Şerbeszki Marius, Militarizarea Mării Negre, Conference Gândirea militară modernă, Bucharest, 2019, https://gmr.mapn.ro/app/webroot/fileslib/upload/files/arhiva%20GMR/2019%20gmr/Conferinta%20GMR%202019/GMR_CONF%20ro_Serbeszki.pdf
Wade M. Norman, "The Battle staff", SMARTbook third revised edition: Guide to designing, planning & conducting military operations, The Lightning Press, 2019.
https://www.defesanet.com.br/en/iaie/noticia/36678/IAI-s-Barak-Air-and-Missile-Defence-System-uses-network-centered-technology-to-create-a-hermetic-shield/
https://defence-update.com/20210419_barak-er.html
https://caspiannews.com/news-detail/armenia-threatens-azerbaijan-with-use-of-ballistic-missiles-2020-9-28-45/
https://www.middleeasteye.net/news/azerbaijan-armenia-israel-russia-missile-fired-shot-down;
https://caspiannews.com/news-detail/armenia-used-iskander-missiles-against-azerbaijan-in-karabakh-war-says-armenian-expert-2021-9-23-0/
https://www.airuniversity.af.edu/JIPA/Display/Article/2743721/the-second-nagorno-karabakh-war-takeaways-for-singapores-ground-based-air-defen/
https://www.researchgate.net/figure/A-number-of-OODA-loops-in-parallel-22_fig2_288970156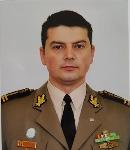 Downloads
License
The published articles are subject to copyright law. All rights are reserved to the "Carol I" National Defense University, regardless of whether all or part of the material are considered, especially the rights to translation, reprinting, re-use of illustrations, quotations, broadcasting through the media, reproduction on microfilms or any other way and storage in data banks. Any replicas without the associated fees are authorized provided the source is acknowledged.