CONSIDERATIONS REGARDING BUILDING MOTOR SKILLS SPECIFIC TO MILITARY PHYSICAL ACTIVITIES
Abstract
In its first part, the article addresses issues related to the concept, characteristics and typology of motor skills. Subsequently, some evaluations related to the mechanism of building motor skills are revealed and their stages highlighted, insisting on the methodical ones. Throughout the article, opinions are also expressed about the complexity of the motor skills training process applicable in the military system and their special importance in combat training.
Keywords: motor skills; military training; formation; consolidation; improvement; complexity.
References
1. Bota, A., Kinesiology, Didactic and Pedagogical Publishing House, R.A., Bucharest, 2007;
2. Cârstea, Gh., Theory and methodology of physical education and sports, AN-DA Publishing House, Bucharest, 2000;
3. Dragnea, A. et al., Physical education and sports - theory and didactics, FEST Publishing House, Bucharest, 2006;
4. Epuran, M., Motor skills and psychism in bodily activities, FEST Publishing House, Bucharest, 2011;
5. Pelmuș, A.D., Development of the motor capacity of the military personnel, Publishing House of the Army Editorial Technical Center, Bucharest, 2021;
6. https://pregatirefizica.wordpress.com/2017/06/13/deprinderile-motrice;
7. http://educatie-fizica.ro/invatarea-motrica-formarea-deprinderilor-motrice;
8. https://www.academia.edu/17334296/Invatarea_deprinderilor_motrice.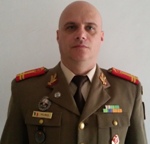 Downloads
How to Cite
PELMUȘ, A. . (2021). CONSIDERATIONS REGARDING BUILDING MOTOR SKILLS SPECIFIC TO MILITARY PHYSICAL ACTIVITIES. BULLETIN OF "CAROL I" NATIONAL DEFENCE UNIVERSITY, 10(2), 119–123. https://doi.org/10.53477/2284-9378-21-15
License
The published articles are subject to copyright law. All rights are reserved to the "Carol I" National Defense University, regardless of whether all or part of the material are considered, especially the rights to translation, reprinting, re-use of illustrations, quotations, broadcasting through the media, reproduction on microfilms or any other way and storage in data banks. Any replicas without the associated fees are authorized provided the source is acknowledged.