THE PERSISTENT CONFLICT, A CHARACTERISTIC OF THE CONCEPT OF APPROACHING THE HYBRID WAR IN THE EASTERN EUROPEAN OPERATIONAL ENVIRONMENT
Abstract
The Contemporary Eastern European operational environment is a complex system of actors, weapons and weapon systems, circumstances and conditions that manifest themselves in well-defined areas and that can directly influence decisions to use military capabilities. It may include both enemy and neutral or allied enemy forces and systems participating in the persistent conflict, as well as the culture of the population, the physical environment, local resources, the technological level, the political decision-maker and the executor. The lessons learned from the first part of this century convinced us that the Eastern European operational environment is quite conflictual; constantly changing at local and regional level, it falls into a dynamic, persistent and complex context, which, combined with energy blackmail strategies favor the emergence of hybrid dangers and threats to the stability and security of the Eastern European area. Through this article I want to give a firm and documented answer to questions related to: the conception of approaching the persistent hybrid conflict; the tendency of some actors to persist in tensions in the area of Eastern European insecurity and their concern to maintain the persistent conflict as a form of modern manifestation of Eastern European Community relations.
Keywords: operational environment; persistent conflict; hybrid threats; hybrid operating system.
References
*** ADRP 3-0, Unified Land Operations, Department of the Army, Washington, 2012.
*** Doctrina Armatei României, Bucharest, 2018.
*** JP 1-02, DOD Dictionary of Military Terms, US Department of Defence, Joint Education and Doctrine Division, 2010.
*** Manualul de planificare a operaţiilor, Bucharest, 2016.
Bălăceanu Ion, Râpan Florian, Hanganu Marius, Martin Iulian, Mureșan Doina, Dragomirescu Valentin, Interacțiunea strategiilor în conflictele armate moderne, "Carol I" National Defence University Publishing House, Bucharest, 2010.
Blum Rebecca, "The future of NATO in the face of hybrid conflict", Bernard El Ghoul, International Relations, Academic year 2014/2015.
https://www.hotnews.ro
https://inmoscowsshadows.wordpress.com
https://www.jcs.mil/Portals/36/Documents/Doctrine/pubs/dictionary.pdf
ro/doctrina-gherasimov-si-razboiul-non-liniar-dus-de-rusiape-teritoriul-ucrainei/
https://inmoscowsshadows.wordpress.com/2014/07/06/the-gerasimov-doctrine-and-russian-non-linear-war/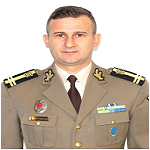 Downloads
How to Cite
PETRESCU, V. . (2021). THE PERSISTENT CONFLICT, A CHARACTERISTIC OF THE CONCEPT OF APPROACHING THE HYBRID WAR IN THE EASTERN EUROPEAN OPERATIONAL ENVIRONMENT. BULLETIN OF "CAROL I" NATIONAL DEFENCE UNIVERSITY, 10(2), 69–75. https://doi.org/10.53477/2284-9378-21-08
License
The published articles are subject to copyright law. All rights are reserved to the "Carol I" National Defense University, regardless of whether all or part of the material are considered, especially the rights to translation, reprinting, re-use of illustrations, quotations, broadcasting through the media, reproduction on microfilms or any other way and storage in data banks. Any replicas without the associated fees are authorized provided the source is acknowledged.