OPERATIONAL APPROACH OF LAND FORCES IN THE HIBRID CONTEXT
Abstract
Visualizing the various operational contexts of recent Land Forces' employment, there were many situations where the nominated structures also faced unconventional adversaries, even though, initially, the nature of operation had been identified as having a conventional pattern. This particularity is perpetuated more and more aggressively, determining the conventional military structures of the Land Forces to operate in order to face both regular and irregular forces, even within the same AO. Based on these coordinates, the article triggers to identify the principles needed to adjust the operational approach of Land Forces, so that the organic structures can perform in engaging the adversary from AOs within current and future operations. Also, a subsidiary objective of the present research is to identify the mutations at the level of ACOAs based on which the adjustment of FFCOAs will be made.
Keywords: hybrid operational approach; ACOA, FFCOA; regular forces; irregular forces.
References
*** Army Regulation 350-2, Operational Environment and Opposing Force Program, Headquarters, Department of the Army, Washington, DC, 19 May 2015.
*** APP-28, Tactical Planning for Land Forces, Edition A, Version 1, NATO Standardization Office (NSO), November 2019.
*** TM 2010-404, Intelligence Preparation of the Battlefield and Operational Environment – General Principles and Research Avenues, Defence R&D Canada - Valcartier, November 2010.
*** ATP 2-01.3, Intelligence Preparation of the Battlefield, Headquarters, Department of the Army, Washington, DC, March 2019.
*** TRADOC G-2 ACE, Threat Tactics Report: Islamic State of Iraq and the Levant, version 1.6, February 2016.
*** Joint Publication (5-0), Joint Publications, Joint Force Development, 1 December 2020.
*** ADRP 3-05, Special Operations, Headquarters, Department of the Army, Washington DC, January 2018.
*** JP 3-05, Special Operations, Joint Chiefs of Staff, July 2014.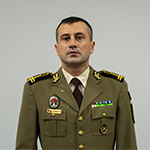 Downloads
How to Cite
TUDORACHE, P. . (2021). OPERATIONAL APPROACH OF LAND FORCES IN THE HIBRID CONTEXT. BULLETIN OF "CAROL I" NATIONAL DEFENCE UNIVERSITY, 10(2), 49–53. https://doi.org/10.53477/2284-9378-21-05
License
The published articles are subject to copyright law. All rights are reserved to the "Carol I" National Defense University, regardless of whether all or part of the material are considered, especially the rights to translation, reprinting, re-use of illustrations, quotations, broadcasting through the media, reproduction on microfilms or any other way and storage in data banks. Any replicas without the associated fees are authorized provided the source is acknowledged.