COVID 19 ‒ POTENTIAL IMPACT ON THE NAVAL POWER PROJECTION
Abstract
The naval power projection has the role of protecting the maritime interests of a country, of transmitting strong messages to both allies and enemies, of shaping the security environment so as to avoid the escalation of conflicts in a particular maritime space. In this article, we have analyzed how the projection of the elements of naval power, especially warships, is affected within the established missions and international commitments assumed because of the current background of the COVID-19 pandemic. We have established as a research hypothesis that the naval forces remain the main tool to ensure the continuity of the projection of naval power in different maritime areas against the background of the spread of the COVID-19 epidemic. To validate the research hypothesis, we have established two research directions that focus on analyzing the importance of applying the concept of naval power projection and how the COVID-19 pandemic influences the actions of the naval forces. The lessons learned from the challenges faced by the naval forces during this pandemic will in the future have a major impact on the organization, training, allocation of forces and development capabilities so that personnel exposure is kept to a minimum.
References
*** FN-1, Doctrina Forţelor Navale, Bucharest, 2018.
*** US Navy COVID-19 Leaders' Handbook, June 30, 2020.
Scipanov Lucian Valeriu, Proiecţia puterii maritime ‒ soluţie la consolidarea securităţii regionale, "Carol I" National Defence University Publishing House, Bucharest, 2018.
Speller Ian, Understanding Naval Warfare, Routledge Tazlor & Francis Group, Second Edition, 2019.
Till Geoffrey, Seapower a guide for twenty-first century, Routledge Tazlor & Francis Group, Third Edition 2013.
https://istorie-edu.ro/istoria-universala/grecia-antica/razboiul-peloponesiac.html
https://War_and_epidemics_A_chronicle_of_infectious_diseas
https://jamanetwork.com/journals/jamanetworkopen/fullarticle/2771114
https://www.agerpres.ro/social/2020/11/13/constanta-marinarii-de-pe-fregata-regina-maria-sunt-transportati-in-trei-serii-la-spitalul-militar-modular-pentru-covid-19--609156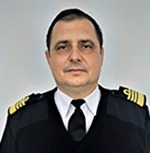 Downloads
License
The published articles are subject to copyright law. All rights are reserved to the "Carol I" National Defense University, regardless of whether all or part of the material are considered, especially the rights to translation, reprinting, re-use of illustrations, quotations, broadcasting through the media, reproduction on microfilms or any other way and storage in data banks. Any replicas without the associated fees are authorized provided the source is acknowledged.