TEME DE PROPAGANDĂ RUSĂ ÎN CONTEXTUL RĂZBOIULUI DIN UCRAINA
Keywords:
Federația Rusă; propagandă; dezinformare; Ucraina; războiul din Ucraina; Europa Centrală și de Est.
Abstract
Prin articolul de față, ne propunem să identificăm temele de propagandă asociate Federației Ruse în contextul războiului din Ucraina şi modul în care sunt formulate acestea, având la bază o analiză a articolelor regăsite în baza de date a EUvsDisinfo (Disinfo Database) pe o perioadă de două luni (august-septembrie 2022). Temele de propagandă au fost identificate prin aplicarea a două tipuri de cercetare: calitativă (analiza de conținut și analiza tematică) și cantitativă. Rezultatele cercetării au indicat următoarele teme de propagandă rusă: tema atacului nuclear – centrala de la Zaporojie, tema nazismului şi a fascismului, tema agresivității militare, tema valorilor ruse şi a legalității (referendum), tema suveranității pierdute şi a imperialismului, tema înscenării atacurilor/a masacrelor, tema conspirației globale și a Occidentului, tema crizei alimentare/insecurității alimentare, tema minorității ruse și a rusofobiei. Scopul prezentei analize urmărește creșterea gradului de cunoaștere în privința acțiunilor ostile ale Federației Ruse în spațiul virtual, cât și a rezilienței utilizatorilor la mesajele vehiculate online.
References
Arndt, Anna Clara, and Liviu Horovitz. 2022. "Nuclear rhetoric and escalation management in Russia's war against Ukraine: A Chronology." Research Division International Security. Accesat la 04.09.2022 https://www.swp-berlin.org/publications/products/arbeitspapiere/Arndt-Horovitz_Working-Paper_Nuclear_rhetoric_and_escalation_management_in_Russia_s_war_against_Ukraine.pdf
Aronson, J. 1994. "A Pragmatic View of Thematic Analysis." The Qualitative Report 1-3.
Bokša, Michal. 2019. "Russian Information Warfare in Central and Eastern Europe: Strategies, impact, countermeasures." German Marshall Fund.
Braun, V., and V Clarke. 2006. "Using thematic analysis in psychology." Qualitative Research in Psychology 3 (2): 77-101. https://doi.org/10.1191/1478088706qp063oa
Coolican, Sarah. 2021. The Russian Diaspora in the Baltic States: The Trojan Horse that never was. LSE IDEAS. Accessed septembrie 2022. http://eprints.lse.ac.uk/114500/1/Coolican_the_trojan_horse_in_the_baltic_states_published.pdf
Cottiero, Christina, Katherine Kucharski, Evgenia Olimpieva, and Robert Orttung. 2015. "War of words: the impact of Russian state television on the Russian Internet." Nationalities Papers 43 (4): 1-23. doi:10.1080/00905992.2015.1013527.
Gorenburg, Dmitry. 2019. Russian Foreign Policy Narratives. Marshall Center, disponibil la https://www.marshallcenter.org/en/publications/security-insights/russian-foreign-policy-narratives-0, accesat la 04.09.2022.
King, N. 2004. "Using templates in the thematic analysis of text." In Essential Guide to Qualitative Methods in Organizational Research, by C. Cassels and G Symon, 256-270. Londra: Sage.
Malinova, Olga. 2014. "The idea of a common past in post-Soviet Russia: ideas about nation and imperial heritage." Muzeum Historii Polski 263-282.
Oweidat, Nadia. 2022. "The Russian Propaganda in Arabic Hidden from the West." Fikra Forum, Aprilie. Accessed septembrie 2022. https://www.washingtoninstitute.org/policy-analysis/russian-propaganda-arabic-hidden-west
Voicu, Marian. 2018. Matrioşka mincinoşilor. Fake news, manipulare, populism. Bucureşti: Humanitas.
EUvsDisinfo Review. Fără an. https://euvsdisinfo.eu/
Myth Detector. Fără an. https://mythdetector.ge/
Consiliul Europei. Fără an. www.consilium.europa.eu
ONU. 2022. "The war in Ukraine and its impact on local and global food security". https://www.undp.org/ukraine/blog/war-ukraine-and-its-impact-local-and-global-food-security?utm_source=EN&utm_medium=GSR&utm_content=US_UNDP_PaidSearch_Brand_English&utm_campaign=CENTRAL&c_src=CENTRAL&c_src2=GSR&gclid=Cj0KCQiAyracBhDoARIsACGFcS7LXNyKfdMNbGdBs7BP6X91L4xhBWRiUG8CN04imIsYQHu3DvWfsTcaAhuzEALw_wcB
Institute for the Study of War (ISW). 2022. Report 03/08/2022. https://www.understandingwar.org/sites/default/files/Russian%20Operations%20Assessments%20August%203.pdf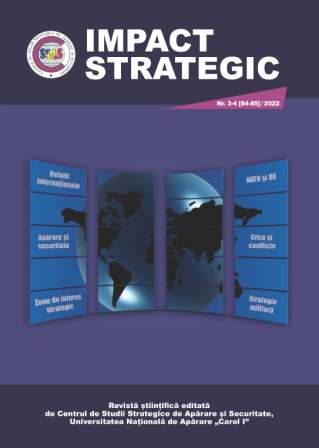 Downloads
Section
SOCIETATEA INFORMAȚIONALĂ